HVAC products are not the same everywhere...
Why should your advertising be?
Target specific U.S. regions with your advertising message. Our network of HVAC and Plumbing communities provide you the ability to micro-market your products and services to specific regions within the U.S. Request a Media Kit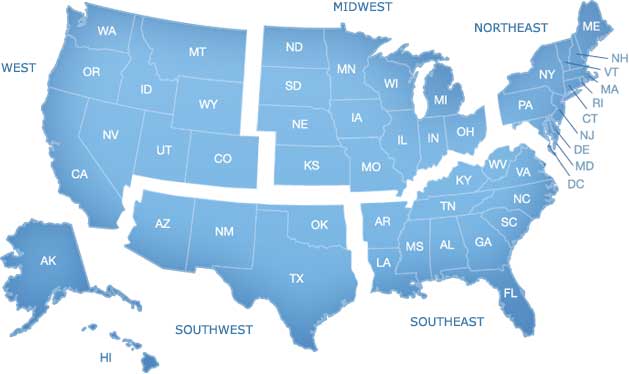 ---
National & Regional Run-of-Site or Run-of-Network Banner ads
Banner ads on our national and regional HVAC & plumbing websites have proven to be a great way to build awareness of new products, generate leads, and drive quality traffic to your site.

Featured Product/Company BEST VALUE AND EXPOSURE!
An exclusive, custom page featuring your product or company. We will design and create your custom page that can include images, cut sheets, brochures or forms.

A one time charge includes:
Your Product/Company featured on our home page for one month.
Your Product/Company will be featured in our e-Newsletter.
Added to our "Featured Products/Company" page indefinitely.
Free Premium directory listing for one year.
---
e-NEWSLETTER SPONSORSHIP
Our quarterly e-Newsletters are a valuable source of information for industry professionals who realize the importance of staying current with industry news in order to be successful. Your full size banner (468 x 60) will display on the top and bottom of our newsletter that is delivered to over 30,000 industry professionals. There is only one exclusive sponsor per issue.
---
Exclusive e-BLAST
Custom e-blast allows you complete flexibility in messaging and timing. We will design an exclusive email featuring your message with tractable links, open rate, click throughs, and forwards. Your exclusive message will be emailed to our database of over 30,000 highly responsive HVAC/R professionals.
---
Featured HVAC/R & Plumbing Job Placement Package. More Info>>
Our job placement package combines three regional specific strategies to find qualified candidates to fill your current hvac/r & plumbing job vacancies.
Just send us the job title, description and location and we will do the rest.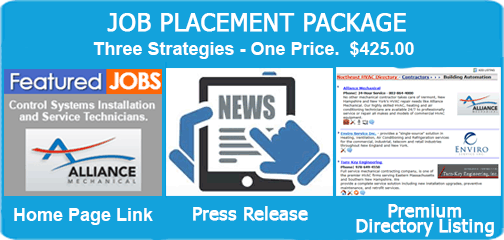 ---
Directory Listings
Listing in our HVAC directories will increase qualified traffic from ready-to-buy local customers while increasing your websites positioning in major search engines.

Add your company listing to multiple directories for additional exposure and savings!



Premium listing $150.00 per year. Listed above Enhanced and Basic Listings! Includes; full-color company logo, phone number in bold, hot links to your important website pages, bold listing within alphabetical listings, unlimited category listings. View example

Enhanced listing $75.00 per year. bold listing within alphabetical listings, unlimited category listings.

Basic listing $50.00 per year. Alphabetical listing in any one category.
---
HVACWebConnection.com is committed to the clear and measurable success of our advertising partners, offering the tools to make working with us easier and more rewarding than other media. Throughout your campaign, we can provide detailed metrics including unique visitors, page views, impressions, click-through, and more, making it easy to measure your ROI.

HVACWebConnection.com can also aid in the design of your advertising campaigns, acting as an outsourced marketing agency for those customers that require this level of expertise. Request a Media Kit

We're happy to support your product and company news. Summit your press releases, events and training here info@hvacwebconnection.com