What do you do when something isnít working properly or efficiently in your business? You make a change. Now for a harder question: what do you do when people donít want to change?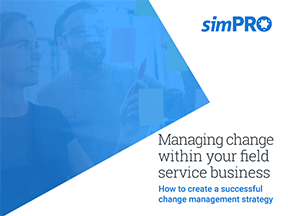 Whenever you attempt to change processes in a business, there is a chance that staff will be resistant to those changes. Especially when it comes to technology. If you are a field service business that has been using paper systems for quoting, recording job details and invoicing, you are probably looking at technology as a way to streamline these processes and remove double data entry.

While not all of your staff may be ready to make that transition, you ultimately need to do what is best for your business. At the end of the day, technology is a tool that will not only help you increase efficiency and profitability, but it should also make life easier for your staff.

If your business is making the transition to tech-based operations for the first time, or even simply switching from one software platform to another, there are steps you can take to ease the transition for everyone involved.

1. Provide adequate training
Some of your staff might be able to get up and running on new technology right away while others may struggle to adjust. Be sure that you are either sharing helpful training resources or working with a technology provider that will supply custom training options for your unique business needs. Also, keep in mind that different people have different learning styles and different levels of capacity to take in new information.


Story continues below ↓
---
advertisement | your ad here
---
2. Allow two-way communication
If you want to avoid resistance from your staff as well as help them manage change, itís important that you both communicate clearly and also give people space to share their thoughts. When communicating about transitioning to new technology, openly share the reason for this change so your staff can understand the motivation and how they will benefit. You also want to be open to staff feedback. If certain people arenít adopting the changes, seem confused or arenít engaging at all, ask why. When you show that you are open to listening to your staff, they will feel respected and less resistant to upcoming changes.

3. Make change at a reasonable pace
While you or other stakeholders might be eager to make the switch over to new technology, it is important to remember that change takes time. It is better to give your staff the time and space to learn new processes properly rather than to rush through implementation only to create confusion later on down the line. One simPRO customer, DeDe Strothman at Corrigan Electric, said it best: ďitís worth the time and the money teaching somebody how to do it right rather than having to correct it later."

4. Show appreciation
Whether you are implementing new technology or asking your staff to make any sort of change that may cause discomfort, remember to show your appreciation. Sometimes when you are making a major change, people are asked to give up additional time, adjust their schedules or take on additional responsibilities. Learning to work with new technology can be a challenge in itself, so show your gratitude through words of praise, incentives and publicly acknowledging those who are putting in the time and effort.

Keep these four key steps in mind when you are adopting new technology or switching software platforms, and youíll find that managing change for your staff is achievable. If you'd like to learn more about how you can manage change specifically in regards to field service processes, download our free eBook: Managing change within your field service business.

In this eBook we share the five steps involved in creating a successful change management strategy as well as helpful advice from seasoned simPRO implementation consultants. Download now.

###