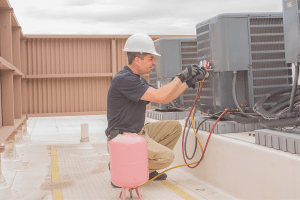 After years of toiling away, building your HVAC business to be the best it can be, you're ready to capitalize on all your hard work. But selling any business can be overwhelming, no matter what reason is driving the sale, be it retirement or a new opportunity.

Nevertheless, when you sell an HVAC business, many aspects can determine a successful deal.

How to Sell an HVAC Business

Owning an HVAC business is an attractive enterprise. The Bureau of Labor Statistics (BLS) job outlook of the industry is a projected 15 percent growth rate over the next eight years. The BLS points out that the estimated HVAC industry upturn is much higher than the average for all occupations. If carried out correctly, the sale should fetch a fair number of prospective offers.

Follow these five steps from Sunbelt Business Brokers to ensure that the sale of your HVAC business goes smoothly.

1.Plan Your Exit Strategy
When you're ready to sell an HVAC business, one of the first steps to take is to develop an exit strategy. An exit strategy is a plan that details how you, in your role as the owner-operator, will leave the company. The goal of the exit strategy is to assure potential buyers that the HVAC business will continue to prosper without you.

Consider these questions in the planning process:
•Do your plans for the future—financial or otherwise—depend on the sale of your HVAC business?
•Will you exit your business immediately or will you stay on for a determined amount of time during the transition to new ownership?
•Is the sale going to include retaining the current employees? If so, how do you ensure job security?
•How will you transfer ownership of the HVAC business?

To avoid complications that could derail or worse, terminate, the sale, be sure you've addressed questions like these when developing your exit strategy.

2.Organize Your Business' Books
Next, you'll need to collect and catalog paperwork associated with your HVAC business. Prospective buyers will expect to see details and records of everything from inventory lists, to tax filings, to contracts, vendors and more. Unsure where to start? Enlist the help of an accountant, lawyer, or financial planner to assist in organizing your legal documents.


Story continues below ↓
---
advertisement | your ad here
---
3.Find Out What Your HVAC Business Is Worth
Prepare your HVAC business for sale by receiving a formal valuation from an accredited business broker or appraiser. A business valuation will give you a clear picture of what your business is actually worth. Often, the emotional component of business ownership can cloud your judgment when it comes to how valuable you perceive your business to be. The best way to determine a fair asking price is to receive a valuation from an impartial, third-party entity.

4.Address Weaknesses & Improve
Prior to listing your HVAC business for sale, make sure it is in the best shape possible to attract interest. Comb through your business' daily operations, marketing strategy, pricing process, and more to detect areas of weakness and commit to an improvement plan.

Another way to sweeten the deal and solicit more offers is to highlight services that differentiate your HVAC business from the competition. Research other HVAC companies in your area and identify ways you can set yourself apart. This might include things like:
•Hiring specialized in-house technicians like plumbers or electricians;
•Implementing recurring, renewable service agreements to lock in customers and guarantee revenue;
•Offering incentives to customers such as BOGO service options or referral discounts; or
•Providing continuing education and advanced training for your employees.

5.Hire a Broker or List Your Business for Sale
Finally, you'll need to list your HVAC business for sale. If you want to simplify the selling process, think about hiring a business broker to handle the nitty-gritty details. But if you need to list your business for sale by owner, look into paid online advertising and listing websites.

Professional brokers are your best bet when it comes to selling an HVAC business. Brokers are industry experts equipped with an extensive network of interested buyers that can successfully market your company to bring in a variety of offers for you to choose from.

If you're ready to list your business for sale, Sunbelt Business Brokers can guide you every step of the way. Depend on Sunbelt to sell your HVAC business for the best price possible. As the place to go to buy or sell a business, there is sure to be a Sunbelt office near you, contact us today!


John Davies
After obtaining his MBA, John began his career at PriceWaterhouseCoopers, the international accounting and consulting firm, and subsequently joined Progressive Corporation, a large U.S. based insurance company. John was a Division President at Progressive and subsequently became the CEO of a New York based private equity investment company. In 2001, he founded MMI as a platform investment company and MMI has subsequently acquired 15 additional companies.

###