Western HVAC News
PennBarry Selects Hercules Industries, Inc. as Representative in Colorado and Wyoming.
PennBarry, a leading manufacturer of ventilation solutions, today announced Hercules Industries, Inc. as their new representative in the states of Colorado and Wyoming, effective May 2013.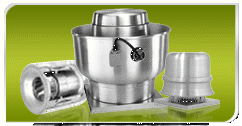 For over 50 years, Hercules Industries Inc. has been a family-owned, independent distributor of HVAC sheet metal products and equipment and has become one of the nation's largest manufacturers of air ducts and processors of flat sheets. With the addition of PennBarry ventilation products to their already robust line card, they will not only be able to better meet their customers' changing construction needs, but will be able to develop deeper roots in the plan and spec market.

"We look forward to growing the relationship (with Hercules Industries Inc.) and being more accessible to engineers, architects, building owners and contractors in the Colorado and Wyoming regions," said Paul Christiansen, Vice President of Sales and Marketing at PennBarry. "Their dedication to service and support has undoubtedly played an important role in their success and will continue to do so moving forward."

Operating out of six offices, located throughout Colorado and Wyoming, Hercules Industries Inc. sales associates are easily accessible to lend design assistance for new construction, retrofit, or renovation applications for a wide variety of HVAC products. In fact, as a testament to their high level of customer service is a record of involvement in several prominent, successful projects, including Sandia National Labs (U.S. Department of Energy), Stout Street Lofts, Arbour Square, Denver Justice Center, and the Systems Biotechnology Building of Colorado University.
Story continues below ↓
---
advertisement | your ad here
---
"Hercules is excited about partnering with PennBarry, a highly regarded fan company with a long history. PennBarry's extensive product offering will help us grow our business and will open doors," says Paul Newland, Hercules VP of Sales.

To satisfy customers with compressed construction schedules, Hercules Industries Inc. relies on a stocking warehouse, which is filled with a variety of products that complement PennBarry fans and blowers, including packaged rooftop units, air distribution products, and unit/infrared heaters. Complete with a state-of-the-art inventory system and a fleet of delivery trucks, it is no surprise that Hercules Industries Inc. has remained a top resource for HVAC solutions.

PennBarry is committed to providing sustainable, innovative ventilation products and solutions through industry involvement, personnel and facility investments, and training programs for architects, building owners, contractors and consulting engineers. Partnerships with knowledgeable, service-oriented Manufacturer Representatives that share similar values and goals continue to play a large part in PennBarry's growth and success.

For more information about PennBarry ventilation solutions or to obtain a copy of PennBarry's Product Catalog or Product Handbook, visit https://www.herculesindustries.com or https://www.PennBarry.com.

About PennBarry
PennBarry is a leading manufacturer of full service ventilation products for commercial and light industrial applications, including kitchen ventilation and energy recovery products. PennBarry is a division of Air System Components, Inc. (ASC). ASC is a subsidiary of Air Distribution Technologies, Inc.