Western HVAC News
ServiceTitan Hosts First User Conference for Home Service Leaders.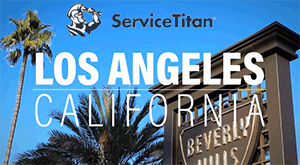 Dispatch, ServiceTitan's first user conference, welcomes the best and brightest from the home services industry to Hollywood for networking, education and celebration.


ServiceTitan, the leading enterprise software for residential HVAC, plumbing and electrical services businesses in the U.S., has announced it will host more than one hundred home service leaders for a day of panels, presentations, product previews and releases, and face-to-face interaction at Dispatch, its first-ever user conference, Friday, Oct. 20 at NeueHouse in Hollywood.


"We want to welcome the best and brightest Titans of the home services industry to Dispatch," said Ara Mahdessian, CEO of ServiceTitan. "We are looking forward to a day of action where attendees will develop new skills, hear from fellow entrepreneurs, and see what's in store for the future of home services. We want to make this first user conference informative for our clients and fun for them and their families.".
Story continues below ↓
---
advertisement | your ad here
---
Highlights of the agenda include:
•What's Their Secret: Interviews with Industry Leaders – Special guests including Jaime DiDomenico from CoolToday, Tom Howard from Lee's Air and Aaron Gaynor from EcoPlumbers discuss growing the home service business, customer acquisition and retention, the importance of branding and more.
•State of the Industry – ServiceTitan proudly unveils the results of its first-ever industry benchmark survey.
•What You've Been Waiting For: Upcoming Product Releases – Get an exclusive peek at ServiceTitan's two biggest product releases ever.
•Streamlined: ServiceTitan's Integrated Payments & Financing – See the power of ServiceTitan's industry-leading payment and financing solutions.
•ServiceTitan University – Learn to better share info across your entire organization with forms and tags. Finally get a handle on tracking parts and job costing. No matter how long you've been a ServiceTitan user, SU tailored breakout sessions will help you see even more value from your ServiceTitan investment.
•A Conversation with Ara & Vahe: ServiceTitan's Past, Present & Future – The founders discuss their commitment to improving the lives of America's contractors.
•Rooftop Celebration – Fun and networking as the sun sets over Hollywood.

For more information and to register for Dispatch, visit https://servicetitan.com/dispatch.

About ServiceTitan
ServiceTitan is a mobile, cloud-based software platform that helps home service companies streamline operations, improve customer service, and grow their business. ServiceTitan's end-to-end solution for the multi-billion dollar residential home service industry includes CRM, intelligent dispatch, comprehensive reporting, marketing management tools, mobile solution for field techs, and QuickBooks integration. ServiceTitan brings a fully operational modern SaaS infrastructure to an industry traditionally underserved by software. ServiceTitan is the preferred software for hundreds of the world's most successful plumbing, HVAC, and electrical companies. For more information about ServiceTitan, visit www.ServiceTitan.com.